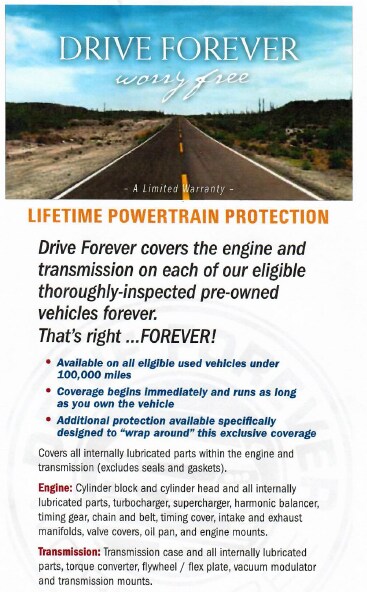 Lifetime Powertrain Protection
 Which vehicles come with the Lifetime Warranty?
 The warranty applies to used vehicles within 10 model years or less old and with less than 100,000 miles.
 What's covered under the Lifetime Warranty?
 The listed components covered have the same coverage as the manufacturer's Powertrain  Warranty plus any additional coverage that is listed on the Lifetime Warranty  Certificate provided when you buy a qualifying vehicle.
 How long is the Lifetime Warranty really good for?
 The Lifetime Warranty is valid for as long as you own the vehicle- for an unlimited  time  and unlimited miles.
 Can I get the Lifetime Warranty at another dealer in the area?
 No. Our dealership has been chosen as the select dealership in the area for a  Drive Forever Lifetime  Warranty. 
 How much will it cost?
 Zero. We're trying to build "Customers for Life" so the Lifetime Warranty comes  standard with every qualifying vehicle meeting the criteria above and is included at no  extra charge.
 Is there any extra maintenance required to maintain the warranty? 
 No extra maintenance is required. You must simply follow the manufacturer's  Recommended Maintenance as referred to in the owner's manual. 
Where am I covered by the Lifetime Warranty?
The Lifetime Warranty is good at any licensed repair shop in the United States or Canada.
Is the Lifetime Warranty transferable if I sell the vehicle? 
No. The Lifetime Warranty stays with the owner as long as they own the vehicle.
What's the catch?
There are no catches, hidden fees, or gimmicks. Our dealership provides this product as an added value to our customers for doing business with us. The only "catch"? You have to buy your vehicle here! 
DETAIL OF COVERAGE
The listed components covered will have the exact same coverage as the Factory "Powertrain" Warranty,  All internally lubricated parts within the engine and transmission are covered including: Engine: Cylinder block and head and all internal parts, intake manifold, timing gears and gaskets, timing chain/belt and cover, flywheel, valve covers, oil pan, oil pump, engine mounts, turbocharger housing and all internal parts, supercharger housing and all internal parts, engine control computer, water pump, fuel pump, seals and gaskets. 
INELIGIBLE VEHICLES
ANY VEHICLE NOT REPRESENTED ABOVE AND TO INCLUDE THE FOLLOWING: ASTON MARTIN, BENTLEY, FERRARI, LAMBORGHINI, LOTUS, MCLAREN, PEUGEOT, RENAULT and ROLLS-ROYCE.
EXOTIC VEHICLES, GREY MARKET VEHICLES, BRANDED and SALVAGE TITLES VEHICLES, TOTAL LOSS VEHICLES, POLICE, POSTAL, TAXI and EMERGENCY VEHICLES, RENTAL VEHICLES, TOW VEHICLES, VEHICLES EQUIPPED WITH A SNOW PLOW, VEHICLES EQUIPPSED A FLAT BED, VEHICLES GREATER THAN 1-TON COMMERCIAL USE VEHICLES and MODIFIED VEHICLES.